pil·grim
ˈpilgrəm
noun
1.

a person who journeys to a sacred place for religious reasons.

synonyms: worshiper, devotee, believer
How much meaning is in this simple definition! Are we not pilgrims all our lives, if we seek God? And isn't our God good to want to be found? He hides Himself for our good, but lets us find Him if we really want to. In fact, He seeks us and waits for our response. He is Love, and does not force Himself upon us.
"O gentle pilgrim of love, You stand at the door and wait!  How many doors in Bethlehem were closed to You: there was no room for You except in a wretched stable.  And is not my heart still more wretched, more squalid, more unworthy of You than that poor stable?  And yet, if I open it to You, You will not disdain to make it Your dwelling and the place of Your repose, as You did the stable where You were born.  O my Jesus, give me the grace to open my heart wide to You, to adhere with all the strength of my will to Your grace, to give You all my liberty, because henceforth I desire but one liberty: the liberty to love you with all my strength, to give myself wholly to You.  O Lord, how much You have loved us, and how few are those that love you!  Grant that at least these few may be truly faithful to You, and that I also may be of their number."  ~Fr. Gabriel of St. Mary Magdalen, Divine Intimacy
+++++++++++++++++++++++++++++++++++++++++++++++++++++++++++++++
A friend at my parish offered to be my "loser buddy" to keep each other accountable. We will tell each other our monthly goals, and encourage each other to keep going. She decided to make a punishment for herself if she does not meet her goal for the month: to clean the basement of the church. I have never heard of doing this, as I think not reaching the goal is punishment enough, but I'll think about it. Any ideas?
She also suggested setting rewards for accomplishing each monthly goal. That's easier for me, but she could not think of anything except being able to wear her favorite dress this summer. My monthly rewards might include: taking a leisurely walk at a park or garden by myself or with Ian, planting flowers this spring, reading a favorite magazine cover-to-cover without a single distraction; and a more long-term incentive is to be able to wear a pretty blue velvet skirt my Sister-In-Law gave me next Christmas.
Today's walking assignment: 30 – 60 minutes in the fat-burning zone at 60 – 70% of your maximum heart rate. Finish your walk at a moderate pace with 5 minutes of cool down at a very easy pace.
So I guess I need to figure out how to use the heart rate monitor Ian gave me.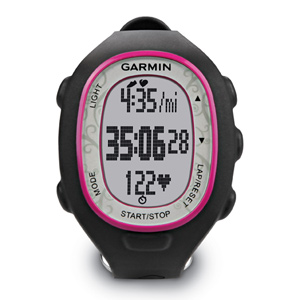 After my walk: I walked more or less briskly for about 40 minutes, south on Phoebe, west on Cooper, south on Black Forest, then turning east and then north on Phoebe again, stopping for a stretch at the mail boxes before heading back home. UPS had left a package, which turned out to be Ian's new phone, so I think he will give me his old one. I am looking forward to using it in conjunction with my exercise program and for keeping better track of my tasks!
FYI: It was about 43 degrees. I wore synthetic long johns from Land's End, a long, navy poly/cotton skirt, my casual red windbreaker, black gloves, scarf, and knit hat. I was pretty comfortable until turning east on Phoebe. Then I removed my gloves and was fine. I noticed my right foot hurt a bit along the outer edge, perhaps because I was walking on the left side of the road, which slopes up toward the center of the road.